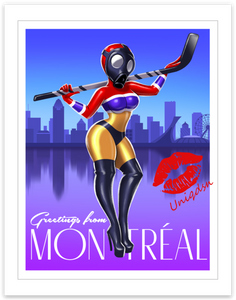 PRE-SALE: SHIPS IN SEPTEMBER
ATTENDING MFW?  TRACK US DOWN TO GET THIS STICKER AT THE EVENT!
Concordia Salus!  This is the first sticker in our "UniqDsn Travel" series.  This large format sticker is roughly 4" in size (102mm) and features a rubberized hockey player, complete with gas mask and heels, standing in front of the iconic Montréal skyline.
This is a "kiss cut" sticker which makes it significantly easier to peel and apply.  There's a white border around the entire edge of the sticker (inside and outside of the cut region).
Collect them, gift them, use them!